Home
Your employer branding and talent marketing AIgency
From discovering your employer brand to creating personalized talent marketing campaigns at scale. You will never miss a moment to engage with talent and employees using the Krita platform.
100+ companies choose Krita's Talent marketing Platform
Personalized campaigns for every candidate, delivered at scale. 
Talent marketing campaigns tailored for the brand and delivered at scale, 100X Faster.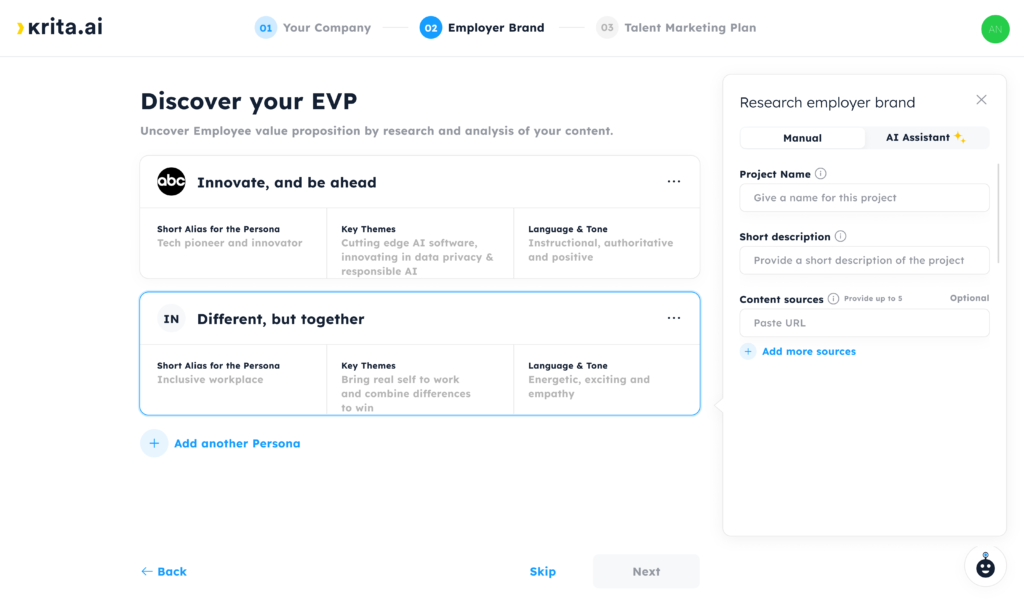 Configure your employee value proposition
Research what talent and employees care about. Audit how your employer brand is represented across all your content, and refine the brand persona for future campaigns you seek to create.
Listen to topics and events your talent care about
Setup the sources of information and key topics you want to track. Get notified when there is a "moment that matters" for your talent or employees.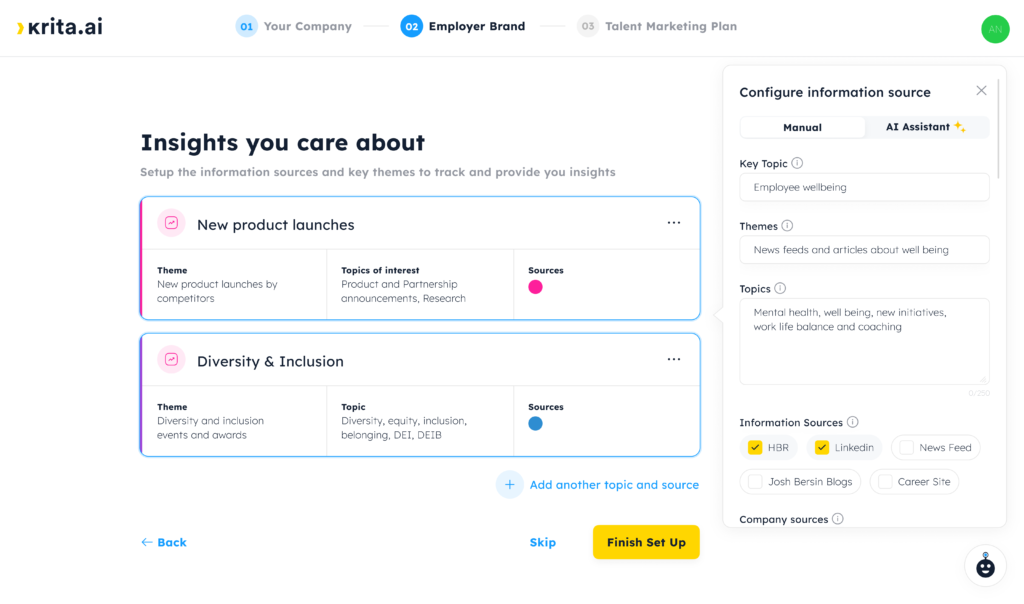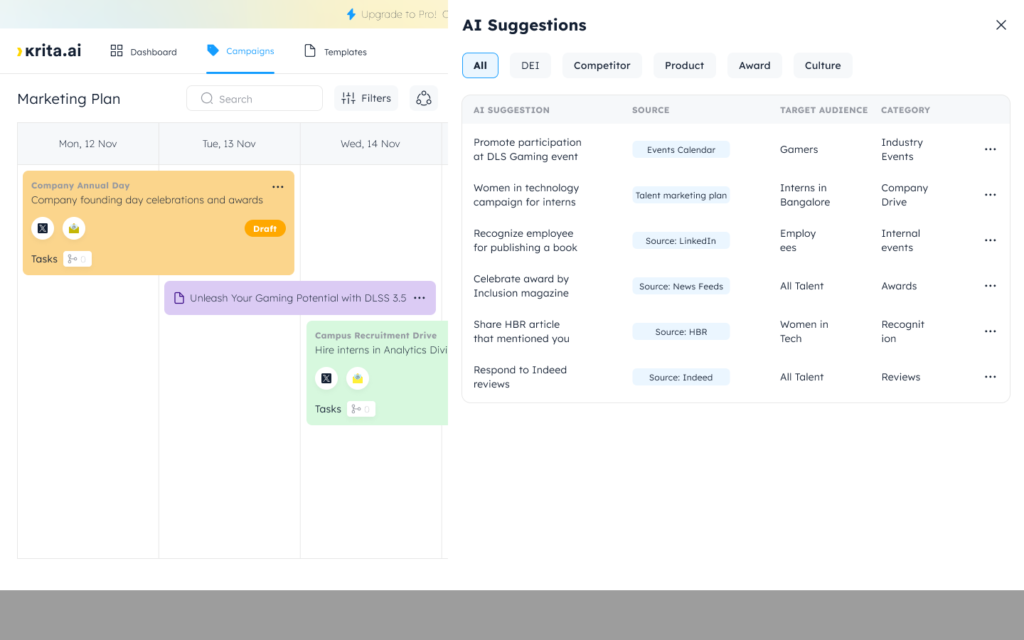 Get AI suggested campaign ideas
By analyzing various internal and external sources of content, Krita AI platform will start recommending campaign ideas for you to engage talent and employees. You can add these suggestions to your talent marketing plan and start creating personalized campaigns.
Choose the most optimal template
Krita has curated the best performing campaign templates and play-books that you can use for the particular topic, target audience and channel. This means, you are always assured of creating content that converts.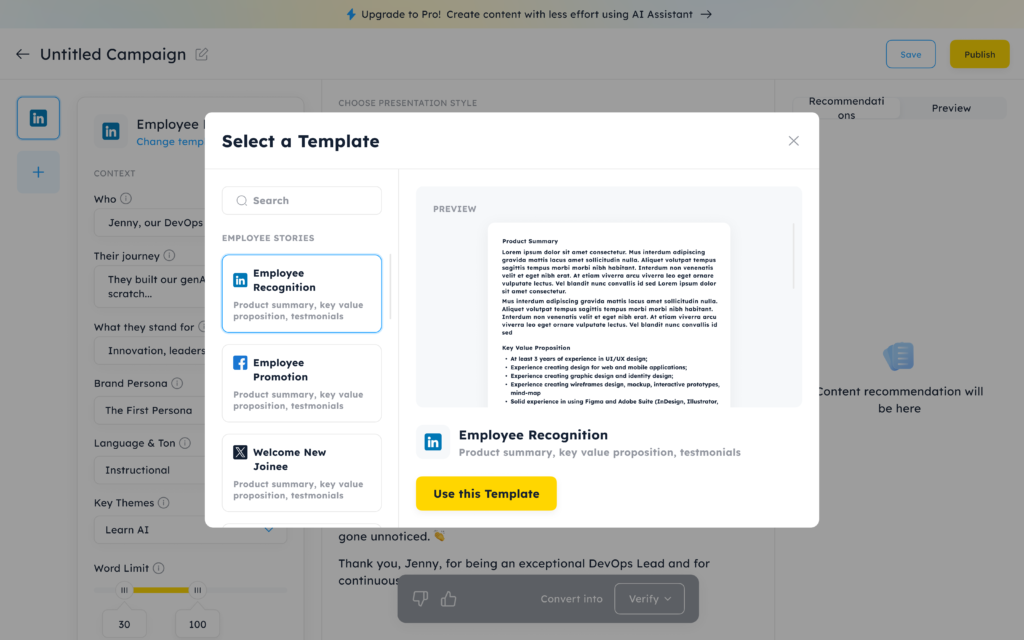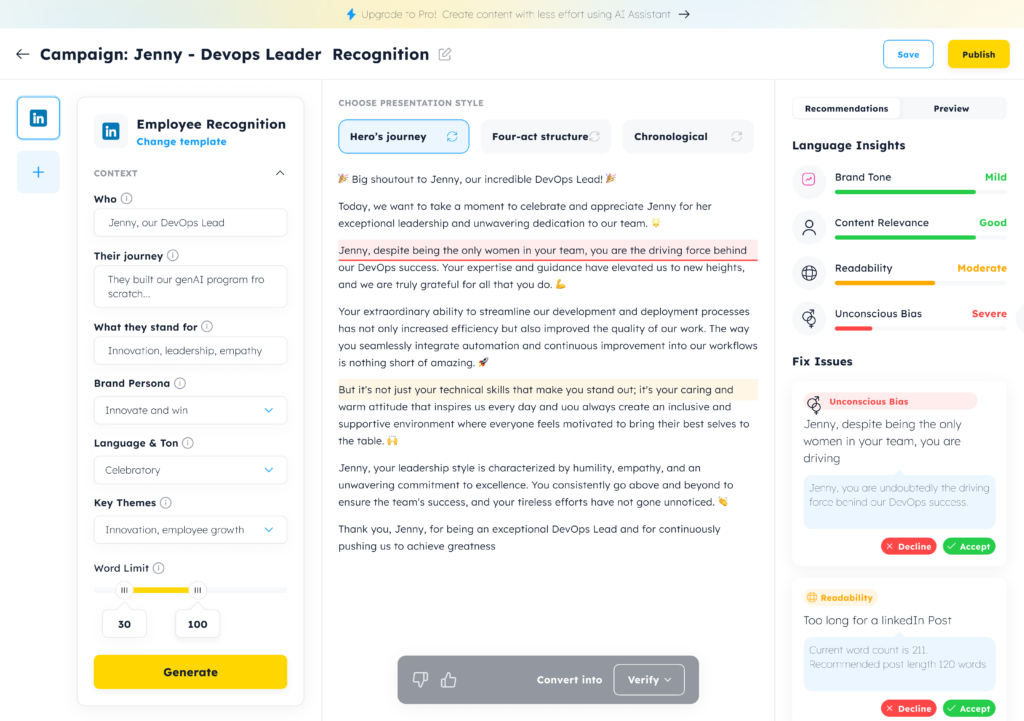 Create omni-channel content for distribution through various channels, while maintaining the context. Get real-time language assistance to verify your edits and content refinement to eliminate bias. Check for  compliances and mandatory disclaimers prior to publishing.
Benefits of Krita Talent Marketing Platform
Scale up and never miss the moment in engaging talent with on brand, verified and engaging campaigns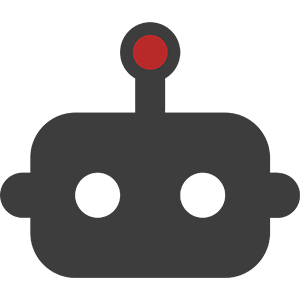 Krita helps you scale up your talent marketing efforts. Create omni channel campaigns and content in a click.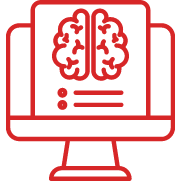 AI learns from your brand guidelines and preferences to create on-brand content and customized content.
Automatic review to eliminate unconscious bias and stay compliant with brand policy, DEI standards and industry standards.
Content creators get real-time language assistance with 1:1 feedback and additional training material.

Create campaigns for talent attraction, recruitment, on-boarding, employee engagement, collaboration and growth.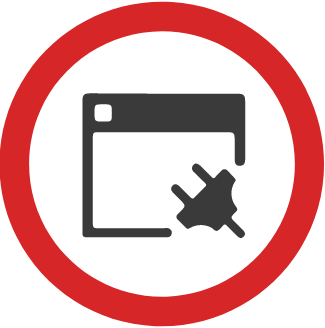 Plugged into the most popular ATS, Talent CRM, CMS, HRIS, and Collaboration software.
Krita brings you pragmatic content from top industry thought leaders in talent marketing and inspiring tech folks in generative AI that you can try straight away.

It features step by step guides, practical tips and the latest trends in generative AI for talent marketing and employer branding that you can implement anytime at your company.
We regularly post about the latest research, trends, upcoming webinars, podcasts, and product launches. We are also part of awesome communities that we recommend here.

We talk to the driving forces behind employer branding, talent marketing, generative AI and responsible AI. We are learning and sharing pragmatic stuff that you can try now!